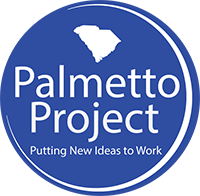 President and Chief Executive Officer Job Posting
Job Overview and Requirements:
Would you like to improve the quality of life of South Carolinians? Are you an entrepreneur who wants to apply innovative strategies to solve South Carolina's social and economic challenges? If the answer to these questions is a resounding "yes" and you meet the following characteristics, apply for the President and Chief Executive Officer position at the Palmetto Project. The President and Chief Executive Officer is the visionary and entrepreneurial leader for Palmetto Project, which addresses many of the social and economic challenges facing the people of South Carolina. The President and Chief Executive Officer provides overall development, leadership, and management for all initiatives and activities, and directs implementation of the Board's vision with a focus on improving the social and economic well-being of South Carolinians.
Our Story: Palmetto Project, a 501(c)3 organization, was founded in 1984 by leaders in the business community who believed that every problem faced in South Carolina has a solution. With its mission of "addressing social and economic challenges facing our state," Palmetto Project brings together civic leaders, educational institutions, corporations, governmental agencies, and thought leaders to rethink and act to solve our State's approach to health and access to healthcare; families, youth, and schools; community engagement; and civic participation. We identify innovative strategies through entrepreneurial thinking to build successful communities and put them into action. With its annual budget of $2 million, Palmetto Project is funded through donations, grants, contracts, and government funds. 
About the Position: The President and Chief Executive Officer leads the Palmetto Project to develop innovative, unconventional approaches to solve problems. This leader is responsible for inspiring the Board of Directors and a staff of 17, identifying innovative strategies, and securing the funds to implement these strategies to improve the quality of life of South Carolinians.
Ideal Candidate: The ideal candidate will be passionate about our mission and improving the lives of the people of our State. We are looking for a visionary and inspirational leader with an entrepreneurial spirit who is willing to seek and implement innovative solutions to social and economic challenges of our State. This strategic thinker will be able to generate funds through grants, individuals, and contracts to implement these ideas in addition to securing long-term revenue. This person must have a bachelor's degree with seven years of experience in successfully developing and managing innovative programs. The position requires the ability to be a self-starter who is a leader in the community, can strategically develop solutions, manage staff, manage budgets, generate funds, collaborate with diverse community groups, and communicate effectively both verbally and in writing.
Reports to: Palmetto Project Board of Directors
Supervises: Leadership Team consisting of the Chief Operating Officer, Chief Innovation Officer, Director of Programs – Lowcountry and Pee Dee, Director of Programs – Midlands and Upstate, and Director of Finance.
Location: Offices are located in Charleston, SC and Columbia, SC
Salary: Commensurate with experience  
To see a detailed job description, click HERE
For additional information contact CEOSearch
To submit your resume and cover letter please email CEOSearch